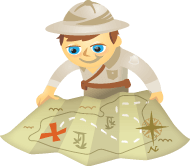 Wish you didn't have to keep creating new content?
Do you need a better return on the content you create?
Having a plan in place for posting, and repurposing your best content will give your content a longer life and make the most of the time you spend creating it.
In this article you'll discover how to get more value out of your social media content.
#1: Tailor Your Content Posts to Each Network
Here's the dilemma. Some of your customers and prospects spend their social networking time on Facebook, while others favor LinkedIn. However, you have a blog post you want both groups to see…