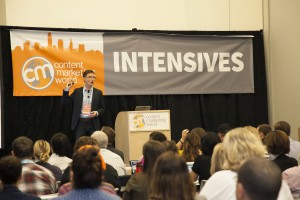 Every Thursday, a Scripted writer will recap a session from Content Marketing World 2014 that will be published here on the CMWorld blog. Find out more about Scripted by visiting theirwebsite.
The big question on a content marketer's mind isn't about creating content, but rather it's about measuring content success. Fortunately for many in the space, Andy Crestodina — co-founder and Strategic Director of Orbit Media — took the stage to discuss the subject at hand. This presentation offers a dynamic overview of content marketing, together with some practical insights on specific techniques you can use to get the most out of Google Analytics. Andy is a specialist in content strategy, and he speaks and writes widely on topics including SEO, analytics, social media and email marketing. Here's what he had to say about "Optimizing and Advanced Analytics" at Content Marketing World in September 2014:
1.Create, Promote & Measure
As content marketers we create content, promote it, and measure its effectiveness. We are all professionals at creating content, although it's important to keep in mind that there's a science to writing content that will rank well in search. Promoting your content depends on effectively using social and email marketing.
Andy gave a few hints here: For effective social media promotion, put your blog post into rotation on your social networks. Link to it from your email signature and run a Facebook or PPC ad. Write a guest post that links back to it. For growing your email list, your call-to-action for subscribers should visually stand out on the page. It should also clearly explain what the subscriber will receive, and it should include persuasive proof that other users find value in subscribing.
Andy Crestodina: Optimizing & Advanced Analytics In Content Marketing — Part 1 [#CMWorld Recap]